Wah Yong (M) Sdn Bhd
24, Jalan Mega 1/7,
Taman Perindustrian
Nusa Cemerlang
Iskandar Puteri,
79200 Johor, Malaysia.

+607-535 3380

Cargo Net
Polyester Synthetic Slings --- Cargo Net ---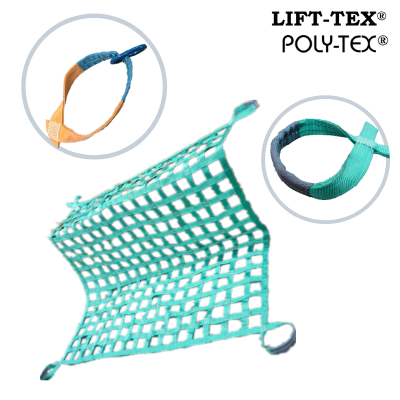 Cargo Net
Polyester Lifting Nets
Brand: LIFT-TEX® (Safety Factor 7) | POLY-TEX® (Safety Factor 6)
Manufactured from 100% polyester.
Available with capacities from 1T-6T.
Mesh size: 4in x 4in, 6in x 6in, 8in x 8in.
1ft reinforced eyes on all 4 corners.
Fittings on 4 corners on request.
Custom size/ length/ design are on request.
Mill certificate is issued per batch.
A PVC label bearing an individual serial number, date of manufacture, length intrinsically, W.L.L. and lifting mode information.
Polyester cargo net is strictly for static & balanced lift only.
Not suited to cubic load with edges and corners.
Testing: Manufacturer will set a maximum load test of 1.5 times of the W.L.L. & charges at customer cost.
Manufacturer shall not be responsible for any damages should customer conduct their own testing.



Send us an enquiry ...